Free Fire India Championship 2021 Fall: Team List and Tournament Format.Twelve teams have moved on to the next stage of the Free Fire India Championship or FFIC 2021 Autumn following the two day Closed Qualifier. Along with the top six teams from the 2021 Summer Free Fire Pro League, they will take part in a 9-day, long League stage.
In this article, we will showcase all 18 teams who revealed themselves to be the biggest candidate for the League Stages.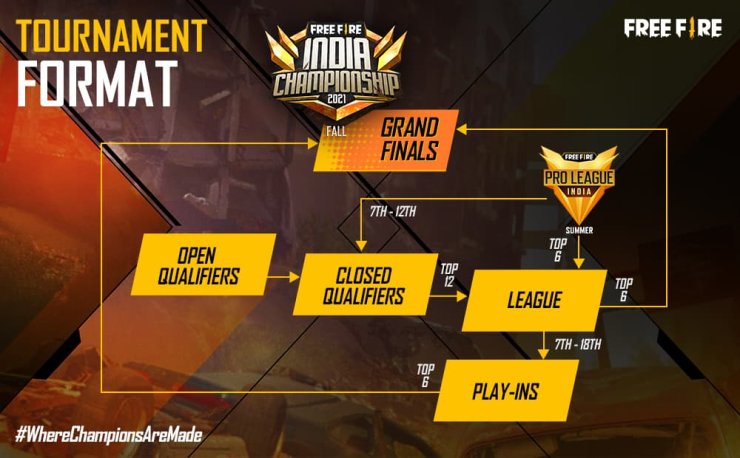 Participating teams in FFIC 2021 Fall League Stage
There are a total of 18 teams in the FFIC 2021 Autumn League stage, including six Free Fire Pro League teams with direct invitations and 12 Closed Qualifier teams. The complete list is here.
Top 6 of FFPL 2021 with direct invites:
Total Gaming
4 Unknown
Blind
Team Elite
TSM- FTX
Desi Gamers
Closed Qualifier participants:
Aura Esports
Team Arrow
LR7 Esports
Trained to Kill
Team Chaos
PVS Gaming
Titanium Army
Galaxy Racer
From the Future
Head Hunters
Skylightz Gaming
UG Empire
FFIC Fall 2021 League Stage format & schedule
Format
This the third of Garena for Free Fire India's four major tournaments announced earlier this year. The above 18 teams divided into three groups, each based on the group's status. The team is a huge prize pool of 75 Lakhs INR.
The top 6 (2 best teams in each group) are going straight to the finals at the end of the stage of the League. The rest of the teams will be competing again for the other 6 slots.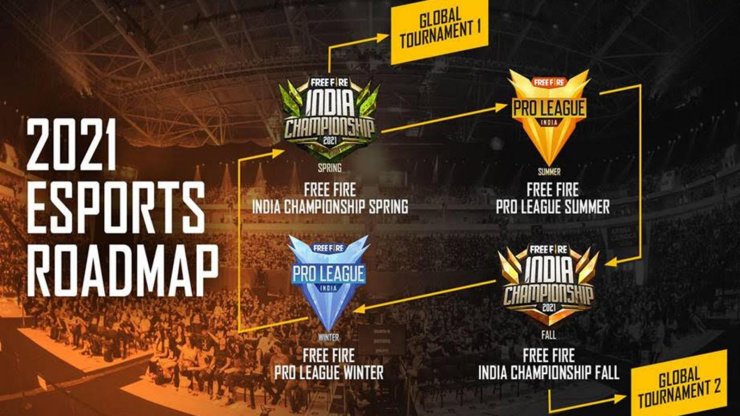 Also Read: GTA Online: How to make money from Auto Shop
Schedule
Very soon, on Sept 17, the fall League stage of the Free Fire India Championship will begin. From Friday to Sunday, every week, matches played.
Day 1 – September 17 (Friday) – Group A and B
Day 2 – September 18 (Saturday) – Group B and C
Day 3 – September 19 (Sunday) – Group A and C
Day 4 – September 24 (Friday) – Group B and C
Day 5 – September 25 (Saturday) – Group A and C
Day 6 – September 26 (Sunday) – Group A and B
Day 7 – October 1 (Friday) – Group A and C
Day 8 – October 2 (Saturday) – Group A and B
Day 9 – October 3 (Sunday) – Group B and C
The top teams will be able to compete for the World Series 2021 during the previous tournaments. Unfortunately, the COVID-19 pandemic has now cancelled. The return of regional tournaments such as the Free Fire Continental Series could seen later.
Which are the strongest teams in the FFIC 2021 Fall League Stage?
Galaxy Racer Esports won the preceding season, Spring Split. They have been doing quite well since taking 4th place in the recent Open Nationals of Free Fire City. The defending champion will most likely be a major contestant for the grand award.
Chaos, the runner-up team last season, and Elite, the third position team, are here too. They were good at previous tournaments too and they're a force to count on.
In addition to these 3 well-known names such as Total Gaming (the FFPL), 4 Unknown, TSM and Titanium Army, the tournament will certainly do well. Head Hunters and Blind are also the new FFCO's veterans. This League stage stacked, with most teams from previous tournaments experienced.
Free Fire India Championship 2021 Fall: Team List and Tournament Format