GTA Halloween Update 2021 Release Date,Cars,Bikes,Events And Leaks.Halloween is approaching, and Rockstar has stated that an "amazing update" will be released, which is expected to be the new GTA Halloween update 2021. Players can expect some thrilling events, similar to the Halloween event each year. We'll go through everything we know so far about the impending GTA Halloween update.
When does the GTA Halloween Update 2021 begin?
According to past years, the GTA Halloween Surprise event normally begins near the end of October. The event last year lasted a week, from October 28 to November 4.
Also, because GTA Online always begins on Thursday, we may anticipate that the 2021 Halloween event in GTA will begin on October 28 and end on November 3.
Events in GTA Halloween Update 2021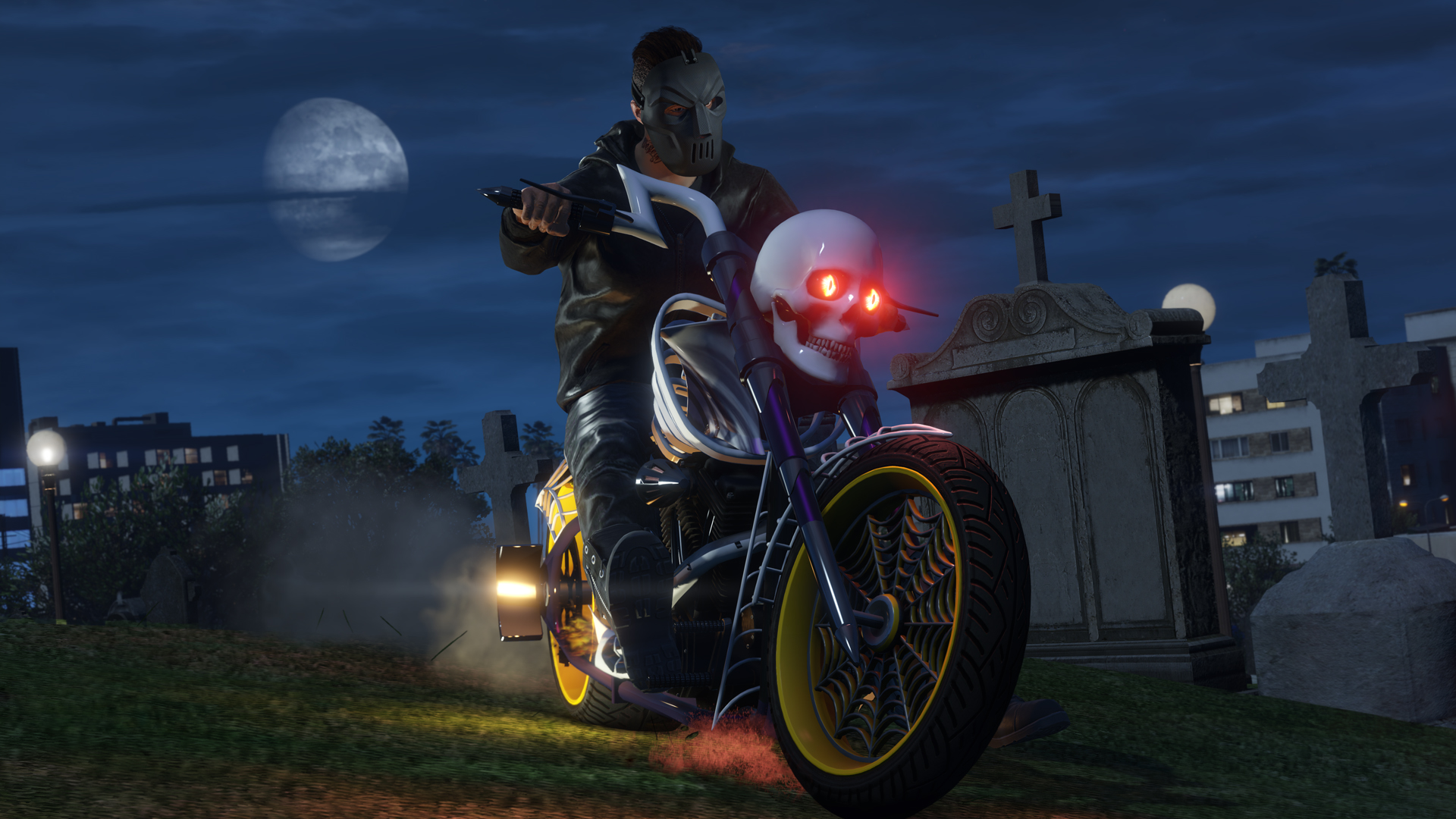 The reappearance of the Peyote Plants has traditionally been the biggest Halloween event in GTA in recent years. Players can eat a Peyote Plant and transform into a random animal, which is entertaining.
The following are the specifics of the leak, as revealed by Monkeypolice188 on Twitter:
The event is based on the infamous Fiery Fury scene from the 1983 film "Christine", where a Plymouth Fury chases Buddy, in a roar of flames.
It appears to take place at the Blaine County Savings Bank. A custom vehicle and a robber spawn at the bank. A ped is run over and set on fire.
It involves a dark-red Tornado Custom with Benny's wheels, yellow-on-black license plate "EAB 211" The vehicle appears to be explosion-proof and fire-proof to an extent, with unbreakable parts and strong axles.
The vehicle has custom flame sounds and effects, as well as a custom detuned horn.
During the event, "Slasher" music from the 2015 Halloween Update plays.
Will the GTA Halloween Suprise Update include new vehicles?
Every Halloween event in GTA Online brings back a new collection of Halloween-themed vehicles, and this year is expected to be no exception. The following is a list of vehicles that will most likely be included in the GTA series' 2021 Halloween Update.
Stange, Fränken
In GTA Halloween Suprise updates, the Fränken Stange is a four-door hot rod. The automobile has a good top speed and acceleration. Even with a little understeer and oversteer, it is generally easy to control. The automobile is quite durable, as one would expect from a classic sports car.
Lurcher
In GTA Halloween Suprise upgrades, the Lurcher is a four-door hearse. The automobile is based on a Buccaneer chassis, however it looks nothing like the factory model. The Lurcher's acceleration is below average when compared to other fast muscle vehicles in GTA 5, but it has a greater top speed. Because of its massive rear end, the Lurcher is more difficult to spin out than other muscle vehicles.
ALSO READ:Genshin Impact Wish Simulator for Raiden Shogun banner
Face paint for GTA Halloween Update
Another often asked concern about the next update is when Halloween face paints will be available in GTA 2021. They are all planned to be released on October 28th, at the same time as the GTA Halloween Surprise update.
GTA Halloween Update 2021 Release Date,Cars,Bikes,Events And Leaks
Here are some leaked face paints from the 2021 GTA Halloween Update.