How To Create A Moonton Account Using Email Address. Moonton is the creator of the popular mobile MOBA game Mobile Legends Bang Bang, which is accessible on iOS and Android smartphones. You will have a guest account when you first start playing, which will allow you to modify your name and image. However, you'll want to register a Moonton account with your email address in order to check in from different devices and provide another layer of security to your account.
We'll show you how to create a Moonton account using your email and how to connect an existing account to an email in the guide below. The steps are all simple to follow and understand, although they may be confusing to beginner gamers.
How to Create a Moonton Account Using Email
To create a Moonton account, follow these steps:
Launch Mobile Legends Bang Bang
Tap on your profile icon on the top left
Navigate to the Account tab
Tap on Moonton Account
Follow the on-screen prompt and enter all details
Verify the account creation via email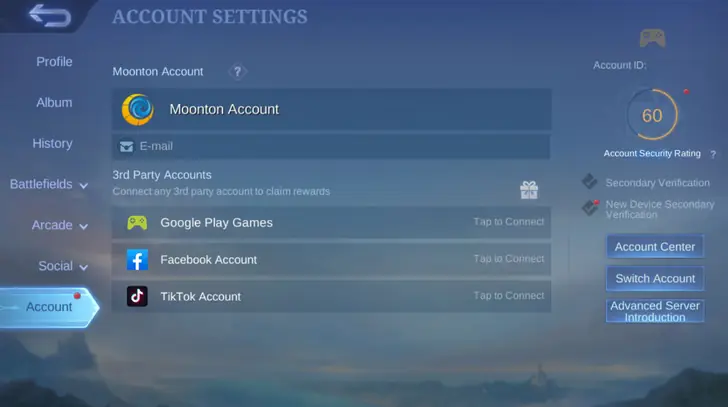 It's simple to set up a Moonton account, but you'll need Mobile Legends Bang Bang to do so. To begin, install Mobile Legends Bang Bang on your Android or iOS device. You'll need to play a few games to get your account level up to 8, which will take some time. Otherwise, you can force the registration prompt to appear by tapping on the Gift Box icon to the right of "Moonton Account."
You can navigate to the Account tab by tapping on your profile symbol once you've reached the proper account level. You'll be able to establish a Moonton account, link an email, and finish the rest of the steps there.
ALSO READ: How To Make A Easy Piston Door In Minecraft
How to bind your Moonton account
You'll probably want to bind your Moonton account after you've created it. These are the steps to bind your Moonton account:
Launch League of Legends
Navigate to the Account tab
Tap on the Bind button
Tap on the Bind Moonton button
Login to your account
Enter your login credentials
Adding an email address to your in-game account adds another layer of security. You may also integrate accounts from third-party services like Google Play Games, Facebook, and TikTok. Depending on your location, you may have other possibilities.
It will be even easier to claim Mobile Legends tickets and acquire free in-game goodies after you create an account.
How To Create A Moonton Account Using Email Address